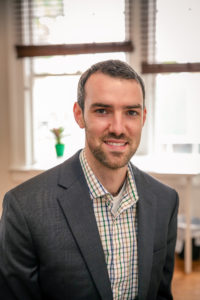 What got you interested in renewable energy- what's your background?
I first became interested in renewable energy as a senior in high school, when we started studying environmental science. I was startled to realize what burning fossil fuels was doing to our planet, and I wanted to do something to help stem the tide of climate change. It was at UNC that I really began to focus on renewable energy because it had both environmental benefits and made a compelling business case. By the time I left school, North Carolina was in the midst of a solar boom, and I saw my opportunity. I have now spent about four years developing solar projects throughout the southeast and am excited to bring that experience to Holocene.
Why is the work that Holocene is doing important to you both personally and professionally?
Stewardship and environmentalism have been part of my identity since I was a Boy Scout, and I think of this work as a natural extension of those values. We all have a responsibility to the planet and each other, and I think the work Holocene is doing reflects that. Renewable energy development is a unique arrangement that allows for value sharing between many parties. There is a monetary value stream that is shared by landowners, local governments, utilities, developers and investors, but also the environmental value stream that is shared by all people. That is why I love working in solar, because there are so many winners.
What do you like to do in your spare time? Hobbies/passions?
I enjoy running, yoga and hiking with my dog. I love a good book and enjoy cooking creative vegetarian dishes. I can be found at trivia night every Wednesday in Jacksonville, FL, where I live with my girlfriend.